27 mars 2007
The D-Day had finally arrived. The departure was at 8.07 a.m., but we had to meet at the station one hour earlier. So I had to get up at 6 o'clock. It was too early for me! I arrived with my parents at the Gare du Nord at 6.45 a.m. I met my friends and teachers… At 7 o' clock, we said goodbye to our parents.

Then, the customs officers checked our luggage and identity papers. Later, we waited for twenty minutes and we got into the train: the Eurostar. we put our bags away and we sat down on our seats.

During the journey which lasted about 2 hours 1/2, I listened to music and I read a book for the school.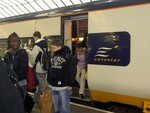 When we arrived at Waterloo station, Mrs Gourgane and Miss Gouyette looked for the London Eye, a big wheel which turns slowly. Some wanted to go in but when they heard about the price – 7£!- many decided not to go!

But 6 girls with Miss Gouyette got into the London Eye.
Meanwhile , the other part of the group (with me) had lunch. We were so hungry that we ate all the food we had! It was only 11 a.m.
Then,Pierre, Elies and I watched the people who were motionless along the Thames. Eliess was really really fascinated.

It was funny.
Around 1.20 p.m., we walked with our luggage all along the Thames up to the Tate Modern Gallery. We only visited three floors. This museum showed modern pictures , paintings, statues… That was great!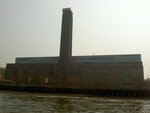 We stayed in for about 3 hours. In this museum which used to a factory, there were four slides! That was strange because I have never seen that in a French museum.
With Pierre and Elies, we tried it. That was really funny but we couldn't do it again.
At 6.15 p.m., we took the tube. The first tube which arrived was full: worse than Paris! The journey in the underground lasted around 50 minutes.
During this journey, we imagined what sort of families

we were going to meet. Nice, nasty, clinging or a family who doesn't look after us.
Around 7.10 p.m., we arrived at the station and we met our families!
Pierre, Elies and I were in the same family ,the Alexanders. At 7.20 pm, a woman arrived and we got on her car. She was Sam, and she was the one who looked after us during the four days. She drove us to her house with the music very loud, without seat belts and she spoke to someone on her phone. We were afraid! Especially as we were used to seeing cars drive on the right but in England, cars drive on the left. So it was very stressful when we overtook an English bus. Sam drove just next to the bus. VERY VERY scary!!
Around 7.40 p.m. , we arrived at Sam's house. Our room, the bathroom, the toilet and the children's room were on the first floor. Our room was pink with three beds. Then, we gave our presents to Sam, she was very happy!
Later, about 8 o'clock p.m., we had dinner.

We had chicken with rice ( not really English

). After dinner, we went into our room and we talked about the family: we found Sam very nice and very dynamic. But we didn't see her children: a boy and a girl. They were 13 and 8 years old. The boy was a good football player and the girl was a ballet dancer.
Afterward, from half past eight to midnight , we talked about many things.
Finally, we fell asleep!
Thomas F.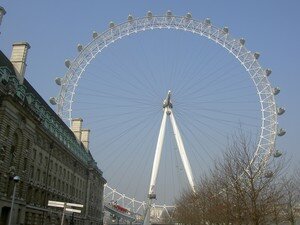 The London Eye is the first thing we saw when we walked out of the station. We were really impressed because it was very high!
As you can see, the weather was absolutely lovely. How lucky we were!
Miss Gouyette
Commentaires sur Tuesday, March 27th 2007