22 juin 2007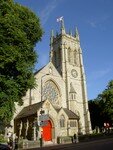 Le voyage des 6èmes s'est très bien passé et nous avons eu la chance d'avoir du beau temps.
Rappel du programme : visite du British Museum, promenade dans Camden town, tour de la grande roue (the London Eye), mini-croisière sur la Tamise de Big Ben à Tower Bridge, promenade autour de la tour de Londres, visite de la National Gallery, détente à St James's Park, promenade autour de Buckingham Palace, shopping à Regent Street et Oxford Street en particulier dans la magasin de jouets Hamley's, visite du Science Museum.
Les enfants étaient logés dans des familles à Beckenham Junction (voir photo ci-dessus).
Vous pouvez visualiser les photos du voyage des 6èmes dans la partie albums photos sur la droite et en profiter pour consulter également les photos du voyage des 4èmes.
N'hésitez pas à laisser un petit message!
Melle Gouyette
27 mars 2007
Ce voyage à Londres a été organisé en collaboration avec Mme Gourgane, à l'origine de ce projet.
Thanks a lot!!!

Merci aussi aux élèves qui ont contribué à l'élaboration de ce blog!
Melle GOUYETTE
The D-Day had finally arrived. The departure was at 8.07 a.m., but we had to meet at the station one hour earlier. So I had to get up at 6 o'clock. It was too early for me! I arrived with my parents at the Gare du Nord at 6.45 a.m. I met my friends and teachers… At 7 o' clock, we said goodbye to our parents.

Then, the customs officers checked our luggage and identity papers. Later, we waited for twenty minutes and we got into the train: the Eurostar. we put our bags away and we sat down on our seats.

During the journey which lasted about 2 hours 1/2, I listened to music and I read a book for the school.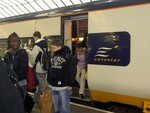 When we arrived at Waterloo station, Mrs Gourgane and Miss Gouyette looked for the London Eye, a big wheel which turns slowly. Some wanted to go in but when they heard about the price – 7£!- many decided not to go!

But 6 girls with Miss Gouyette got into the London Eye.
Meanwhile , the other part of the group (with me) had lunch. We were so hungry that we ate all the food we had! It was only 11 a.m.
Then,Pierre, Elies and I watched the people who were motionless along the Thames. Eliess was really really fascinated.

It was funny.
Around 1.20 p.m., we walked with our luggage all along the Thames up to the Tate Modern Gallery. We only visited three floors. This museum showed modern pictures , paintings, statues… That was great!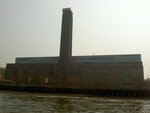 We stayed in for about 3 hours. In this museum which used to a factory, there were four slides! That was strange because I have never seen that in a French museum.
With Pierre and Elies, we tried it. That was really funny but we couldn't do it again.
At 6.15 p.m., we took the tube. The first tube which arrived was full: worse than Paris! The journey in the underground lasted around 50 minutes.
During this journey, we imagined what sort of families

we were going to meet. Nice, nasty, clinging or a family who doesn't look after us.
Around 7.10 p.m., we arrived at the station and we met our families!
Pierre, Elies and I were in the same family ,the Alexanders. At 7.20 pm, a woman arrived and we got on her car. She was Sam, and she was the one who looked after us during the four days. She drove us to her house with the music very loud, without seat belts and she spoke to someone on her phone. We were afraid! Especially as we were used to seeing cars drive on the right but in England, cars drive on the left. So it was very stressful when we overtook an English bus. Sam drove just next to the bus. VERY VERY scary!!
Around 7.40 p.m. , we arrived at Sam's house. Our room, the bathroom, the toilet and the children's room were on the first floor. Our room was pink with three beds. Then, we gave our presents to Sam, she was very happy!
Later, about 8 o'clock p.m., we had dinner.

We had chicken with rice ( not really English

). After dinner, we went into our room and we talked about the family: we found Sam very nice and very dynamic. But we didn't see her children: a boy and a girl. They were 13 and 8 years old. The boy was a good football player and the girl was a ballet dancer.
Afterward, from half past eight to midnight , we talked about many things.
Finally, we fell asleep!
Thomas F.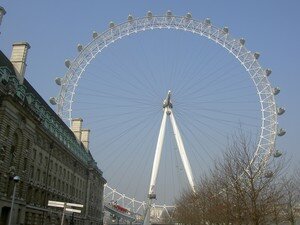 The London Eye is the first thing we saw when we walked out of the station. We were really impressed because it was very high!
As you can see, the weather was absolutely lovely. How lucky we were!
Miss Gouyette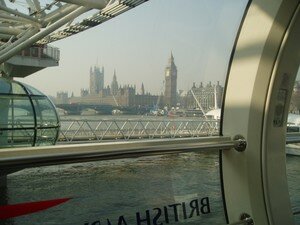 I took this photo when I was in a cabin of the London Eye. We could see the whole town of London. It was splendid. We were lucky because the weather was good. I enjoyed very much this moment with the girls.
Margaux D.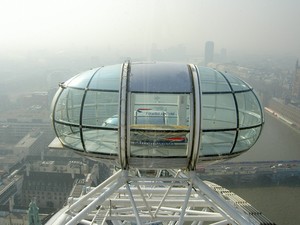 The London Eye is a large wheel which is 137m high. A small group got into the wheel and they said that they had a very beautiful view of London. The wheel turns slowly but never stops so to go up or down, it's necessary to jump!
Camélia A.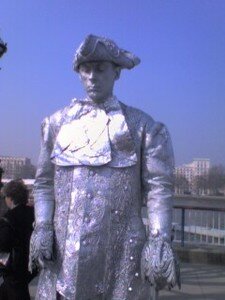 This man was near the Thames. He didn't move at all ! When I saw him for the first time, I thought he was a statue . But when someone gave him a coin, he moved !! He was not the only one to pretend to be a statue, a lot of people did it too. There was a pirate, a magician, a painter .... Sara fell in love with one of them!
Noémie C.
Before visiting Tate Modern, we relaxed in front of the museum.
You can see Jihad saying hello to English schoolgirls!

Miss Gouyette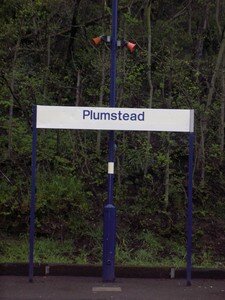 After the visit, we took a train (still with our suitcases...) and we arrived at Plumstead a little bit late... The families were already waiting for us. Everybody was happy to see his/her family even if we weren't as comfortable as at home....
Sara C.
26 mars 2007
I woke up at 6:45 am and ate my English breakfast at 7.00 o'clock. It was 8 o'clock when all the group met at the usual meeting point, then we went to a bus station and took the bus for a very popular London tour and we saw all the monuments and Buckingham Palace. I was excited during this trip and my friends too. I was very impressed by Buckingham palace which is a massive castle like Versailles. The traffic in Londonwas not as important as in Paris. During the trip we sat on the second floor of a typical London bus where there was a strong wind. The weather was sunny and the temperature was 18 degrees. In the bus a woman gave us all the information about the monuments. At noon we sat along the Thames and ate our packed lunch.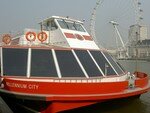 Then we went on a boat and enjoyed a mini tour during half an hour. Next to Tower Bridge, there was a souvenirs shop but it was too expensive for me so I didn't buy anything. In the evening we all went back to our families'. I was so tired that after dinner I went to my bedroom and slept immediately.

Alexandra R.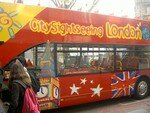 In the morning, we went to Grosvenor Place to take a double-decker. Of course, we went upstairs. The bus left and first went to Marble Arch by crossing Park Lane, everybody took photos. Later we saw the famous station of Baker Street where there is Madame Tussauds's, the legendary museum. The bus crossed Regent Street and Oxford Street where we went shopping. Then we saw Piccadilly Circus, the place where there are big screens. Then we went on and we saw Big Ben and the Houses of Parliament : we took many photos. Then we crossed Tower Bridge and saw the Tower of London. We finally saw Buckingham Palace, the Queen's big house. At the end, we returned to the point of departure and we had lunch.
Babacar N.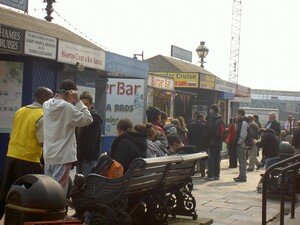 Children queuing at Burger Bar because they didn't like their packed lunch!
Miss Gouyette